...Your Life Matters
Katrina Tagget Memorial Foundation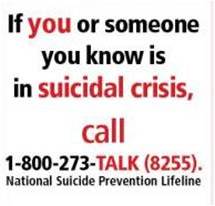 Call the National Suicide Prevention Lifeline at 1-800-273-TALK OR Text "HELLO" to 741741, if you or someone you know exhibits any of the following signs:
• Threatening or talking about wanting to hurt or kill oneself
• Looking for ways to kill oneself
• Talking or writing about death, dying or suicide when these actions are out of the ordinary for that person
• Feeling hopeless
• Acting reckless or engaging in risky activities -- seemingly without thinking
• Feeling trapped--like there is no way out
• Increasing alcohol or drug use
• Withdrawing from friends, family and society
• Feeling anxious, agitated, or unable to sleep or sleeping all the time
• Experiencing dramatic mood changes
• Seeing no reason for living or having no sense of purpose in life
Website Header Artwork from www.freewebpageheaders.com
The Katrina Tagget Memorial Foundation is a 501c3 tax exempt foundation. Donations made are tax deductible. Tax ID 26-4545775.